BAN DE JACHT
Posted on
16 augustus 2020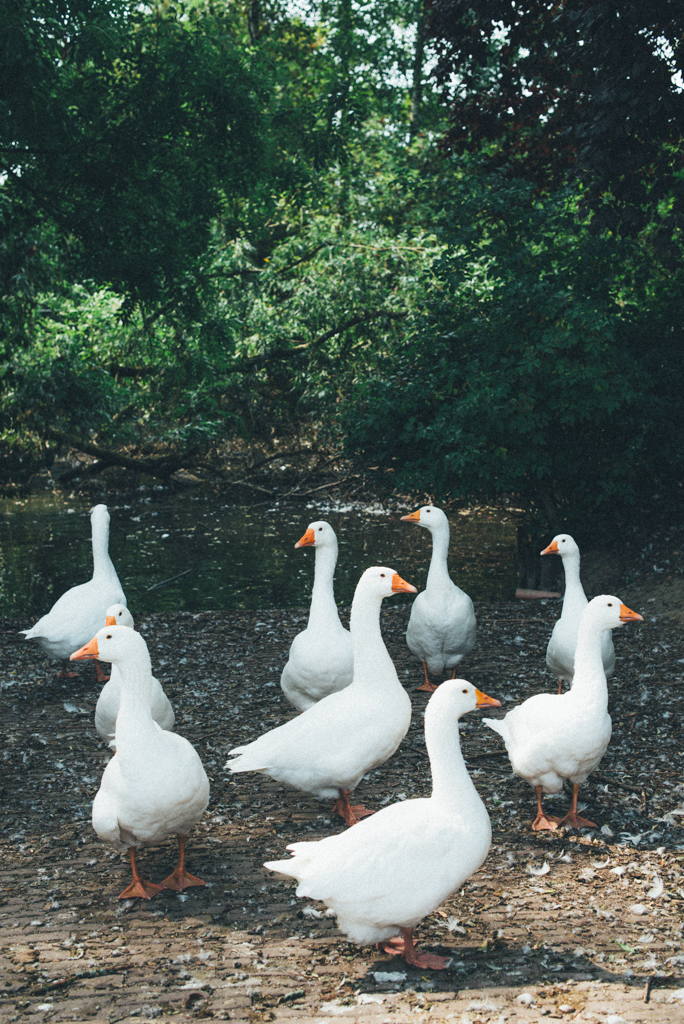 Gisteren was weer een dag van tegenstellingen. In de ochtend in Heerjansdam probeerden mijn vader en ik een jager te weerhouden van schieten. Helaas was hij niet onder de indruk van mijn gespring en -schreeuw en schoot er lustig op los. Stapels ganzen in het veld. Mijn hart huilde.
We hebben foto's gemaakt, kenteken vastgelegd en via de Faunabescherming, Partij voor de Dieren, Animals Rights en gemeente een melding gemaakt. Volgende keer sta ik er met een toeter. Dat leerde ik in de middag van H. H. (ik houd de naam geheim, omdat deze te maken heeft met de naarste dreigingen van jagers) woont in de Hoeksche Waard en heeft de meest gruwelijke slachtpartijen met eigen ogen gezien en doet er nog altijd van alles aan om deze barbaarse toestanden tegen te gaan. Ik ben dankbaar voor partijen als Animal Rights NL waar ik niet alleen met mijn verdriet terecht kan over deze gruwel toestand, ze zetten zich ook zo stevig in om de jacht eens en voor altijd te bannen. Want natuurlijk schiet het trekken van je geweer of iemand dood maken nooit en te nimmers ook maar iets op. Luisteren, observeren, leren en samenwerken- en leven is de weg waar ik heilig in geloof. Ik probeer mezelf te weerhouden in dit soort tijden te verzanden in ongeloofelijk verdriet voor alle prachtige dieren wiens toekomst onveilig is of welke lijden door het toedoen van de mens. Waar ik kan probeer ik praktisch te handelen, bij te dragen, geld over te maken, toeters aan te schaffen, ochtenden vroeg op te staan voor de jacht begint en gebedjes te doen (ik ben niet religieus, maar geloof in de kracht van intenties en energie), mijn hoofd koel te houden en hart te verzachten. Mocht je ook willen weten wat je kunt doen tegen de jacht? Hier kun je er van alles over lezen. Laten we er voor de dieren en voor de aarde zijn in plaats van tegen. Want hoe kunnen we ook anders, we leven er met elkaar op, komen er allen uit voort en ademen allen dezelfde lucht.
De tegenstelling was dat ik in de middag een vegan en kruidengeneeskunde workshop mocht geven op landgoed De Peerdegaerdt. Een hemelse plek waar dier, mens en plant in harmonie met elkaar samenleven. Het was een hoopvol elixer voor mijn krakende hart.
PS: ik herinner me het boek van Laurens de Groot – Jacht op de Jagers. Altijd op mijn verlanglijstje gehad, nu maar eens aan beginnen.
---
BAN THE HUNT
Yesterday was another day of contradictions. In the morning in Heerjansdam my father and I tried to stop a hunter from shooting. Unfortunately, he was not impressed by my jumping and screaming and proceeded with the killing of innocent beings. Stacks of geese were lying in the field. My heart was crying.
We took photos, registered the license plate and reported the hunter to the Fauna Bescherming, Party for the Animals, Animals Rights and the local goverment. Next time I'll be there with a blow horn. Something I learned in the afternoon from H (I keep the name private, because this person has to cope with the worst threats from hunters). H lives in the Hoeksche Waard, an area in The Netherlands where a lot of hunting goes on, and has seen the most gruesome massacres with their own eyes and still does everything they can to counter these barbaric actions. I am grateful for people like H and parties like Animal Rights who I can contact for some solace about these horrific situations. Animal Rights are tirelessly working in many fields and on many cases to bring down animal suffering, and are also committed to ban the hunt once and for all. Because, of course, pulling a gun or killing someone never makes any sense. Listening, observing, learning and working together is the way I believe we can actually build on a harmonious future. A future in which all can thrive. I try to keep myself from going into unbelievable grief in times like these. Grief and heartache for all the wonderful beings whose future is unsafe or who suffer at the hands of man. Where I can I try to act practically, contribute, donate, blow horns, get up early in the morning before the hunt begins and say prayers (I am not religious, but believe in the power of intention and energy) and keep my head cool and my heart soft. Would you also like to know what you can do against the hunt? You can read more about it here. Let's be there for the animals and for this precious earth instead of against. Because how could we otherwise, we live together, all come from the same place and all breathe the same air.
The contradiction was that in the afternoon I gave a vegan and herbal medicine workshop at De Peerdegaerdt estate. A heavenly place where animals, humans and plants live together in harmony. It was a hopeful elixir for my aching heart.
PS: I remember the book by Laurens de Groot – Hunting the Hunters. Had it on my wish list forever and so now is the time to dive into it.