DE WERELD VAN HET HART
Posted on
23 oktober 2021
Wat een eer om te hebben mogen bijdragen aan deze prachtig vormgegeven en bijzondere bundeling van gedichten en gedachten over liefde, verbinding en thuiskomen in je eigen hart door mijn lieve en zeer getalenteerde vriendin Britt Nelissen.
Een stukje uit het voorwoord:
'Het hart kent ons door en door. Ze zit in ons, klopt en geeft ons daarmee het leven. Ze weet de weg, heeft humor en zit vol verrassingen. Ze kent alle geheimen van het universum: haar wetten, haar magie en haar liefde. Ze kent het verleden en de toekomst, gebundeld in het eeuwige nu. Ze is vol van waarheid.  Daarom besloot ik vragen aan haar te stellen. Waar kan ik je vinden en hoe blijf ik met je verbonden? Hoe praat je tegen mij? Hoe zit het met vergankelijkheid, het donker, groei en geluk? Mijn antwoorden vind je in dit boek.'

Voor dit boek had ik de dankbare taak om mee te lezen, uit te wisselen met Britt over grootste onderwerpen als liefde, ego, de essentie van leven en de uitzonderlijke wereld van het hart. Het lezen van iedere zin voelde als thuiskomen in een wereld die magisch klopt in iedere cel van mijn lijf en al helemaal in de complexe en rijke wereld van mijn eigen hart.
Het boek is gedrukt bij een groene drukker in Nederland op crème FSC Biotop papier. Zo wordt de CO2-uitstoot gecompenseerd door het planten van bomen (Trees for All) en gebruiken zij biologisch afbreekbare inkt en chemieloze platen tijdens het drukproces. De foto's in het boek zijn gemaakt door Danique van Kesteren en de prachtige cover is vormgegeven door Tijana Lukovic.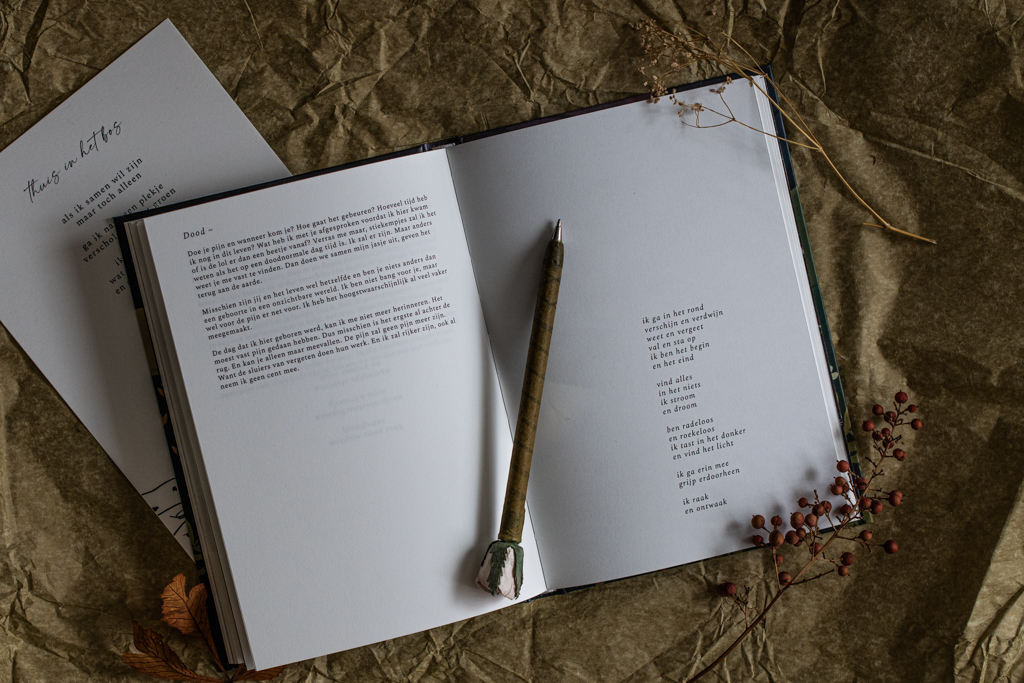 ---
What an honour to have been able to contribute to this beautifully designed and extraordinary collection of poems and thoughts on love, connection, and coming home to your own heart by my dear and talented friend Britt Nelissen.
An excerpt from the preface:
'The heart knows us well. She is inside of us, beating and giving us life. She knows the way, has humour and is full of surprises. She knows all the secrets of the Universe: her laws, her magic, and her love. She knows the past and the future, bundeled in the eternal now. She is full of truth. That is why I decided to ask her questions. Where can I find you and how do I stay connected to you? How do you talk to me? What about the impermanence of things, the darkness, the growth, and the happiness? You will find my answers in this book.'
For this book, I had the grateful task of reading along, exchanging with Britt on such major topics as love, ego, the essence of life, and the extraordinary world of the heart. Reading each sentence felt like coming home to a world that magically beats in every cell of my body and especially in the complex and rich world of my own heart.
The book is printed by a green printer in the Netherlands. They offset their CO2 emissions by planting trees (Trees for All) and use biodegradable ink and chemical-free plates during the printing process. The gorgeous photos in the book were taken by Danique van Kesteren and the beautiful cover was designed by Tijana Lukovic.
You can order it here (in Dutch).