DOG.EAT.PLANT.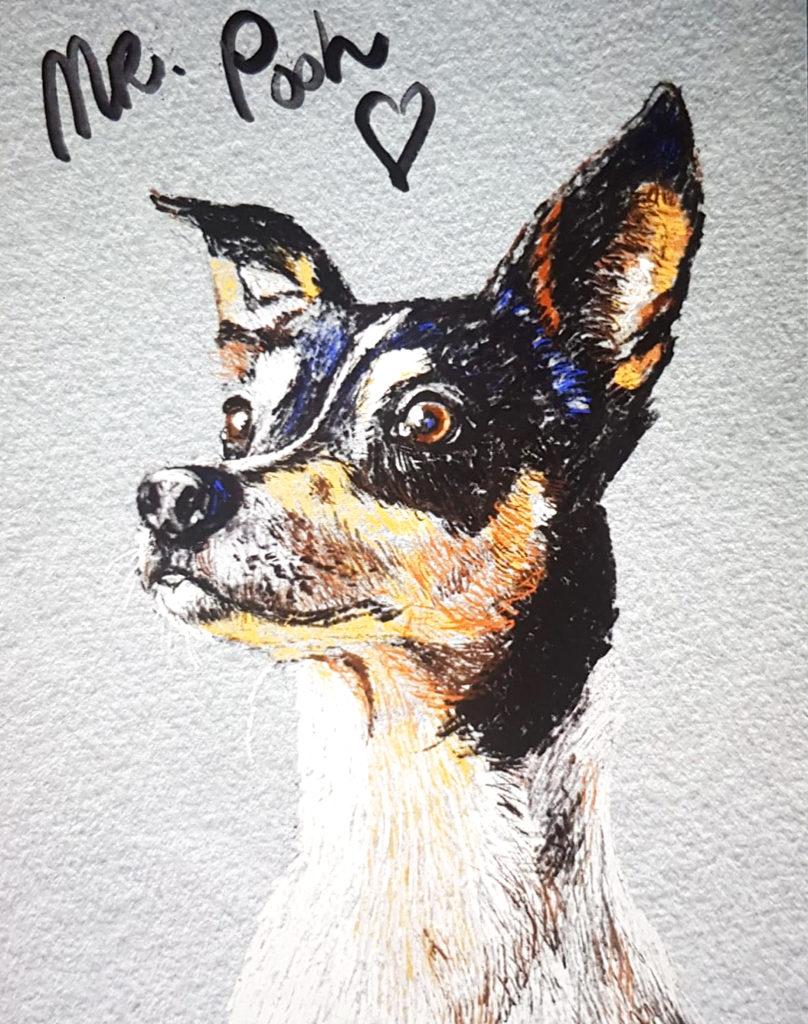 Vanmorgen schreef ik op het medicijnblaadje van meneertje Pooh, dag 206. Het is 206 dagen dat ik hem een specifieke dosis en combinatie van biologische cannabistinctuur, CBD en THC in olie geef.
Op mijn blog en enkele posts terug schreef ik over wat er gebeurde in augustus 2019 en het proces dat daarop volgde. Ik koos voor een holistisch pad ondersteund door de geneeskracht van planten. Met dank aan The Healing Project in Californië leerde ik over de medicinale eigenschappen van CBD en THC voor honden en met de steun van Jesse ging Mr. Pooh op een weed trip. Naderhand ben ik overgestapt naar de mooiste leverancier van Nederland, die samen met zijn vriendin ook goede vrienden zijn geworden (ik tag ze liever niet, vanwege veiligheidsoverwegingen). Echte dierenvrienden met hartjes goud. Dit hele proces is zo'n leerzaam en buitengewoon avontuur. Tegen de mening en het advies van de status quo in gaand, vertrouwend op mijn intuïtie en natuurlijk altijd op de kracht van planten.
En nu is het de tijd dat ik met vreugde delen kan dat op dag 206, meneer Pooh er nog is! Elke 8 dagen lijkt hij 1 slechte dag te hebben, maar hij herstelt snel en is ontspannen, gelukkig en eet de andere dagen goed. Plantaardig natuurlijk! Ik heb Pooh zien bloeien op planten en kruidengeneeskunde gedurende de 11 jaar dat hij bij mij is. En vanwege deze persoonlijke ervaring, maar ook vanwege de wetenschap en vele ongelooflijke verhalen van honden die een lang en gezond leven leiden op de kracht van planten, deel ik met veel plezier dat
Rick Scholtes
(van o.a. vegavriend.nl), uitgeverij Tree Books en ik een boek over dit onderwerp aan het maken zijn. Een boek met de titel DOG.EAT.PLANT. 😉 en welke een prachtige gids aan het worden is vol met inspiratie, informatie, wetenschap en recepten om je hond veilig en liefdevol te helpen overschakelen naar een plantaardig dieet. Hopelijk, als corona het ons toestaat, gelanceerd op 4 oktober.
Ik zal komende tijd meer delen, maar ik ben blij dat ik dit nieuws eindelijk kon posten, het was namelijk een heel proces om dit boek uitgegeven te krijgen. Heel anders dan bij de aanloop van mijn vorige boeken. Maar ook een mooie timing voor een post, omdat mijn lieve vriendin
Nina Van Houten
plotseling een ongelooflijke tekenartiest blijkt te zijn die deze absoluut verbluffende tekening maakte van het wezentje waar ik onbeschrijfelijk veel van houd. Nina veel dank
🙏
❤
.

Dus ja, biggetjes en honden zijn tegenwoordig mijn nieuwe modellen 🐖🐶🌿💖.
This morning I wrote down on Mr. Pooh's medicine sheet, day 206. It has been 206 days that I have been giving him a specific dose and combination of organic Cannabis tincture, CBD and THC in oil. On my blog and some posts back I wrote about what happened in August 2019 and the proces that followed. Together Mr. Pooh and I chose a holistic path supported by plant medicine. Thanx to the Healing Project in California I learned about the medicinal properties of CBD and THC for dogs and with the support of Jessie Mr. Pooh went on a Weed trip. Afterwords I transitioned to the most wonderful supplier in The Netherlands, who together with his wife also became dear friends. True animal lovers with hearts of gold. This whole proces has been such an educational and extraordinary adventure. Going against the main stream opinion and advice, trusting my intuition and of course always the power of plants.
And now is the time that I can say with joy at day 206, Mr. Pooh is still here! Every 8 days he seems to be having 1 bad day, but he recovers soon and is relaxed, happy and eating well the other days. Eating plant based of course! I have seen Pooh blossom on plants and herbal medicine during the 11 years that he is with me. And because of this personal experience, but also because of science and many incredible stories of dogs who live long and healthy lives on the power of plants I am happy to share that Rick Scholtes (vegavriend.nl), publisher Tree Books and I are making a book on this subject. A book that carries the title DOG.EAT.PLANT. 😉 and which will be a beautiful guide loaded with inspiration, information, science and recipes to help your dog safely and lovingly switch to a plant based diet. Hopefully, if corona lets us, launched on the 4th of October.
I will share more soon, but am happy that I could finally share this news. A beautiful timing for a post also because my dear friend Nina van Houten suddenly turned out to be an incredible artist who made this heartfelt and absolutely stunning drawing of the being that I love so indescribably much. Nina thank you 🙏❤.
So yes, piggies and doggies are my new models these days 🐖🐶🌿💖.