FIRE CIDER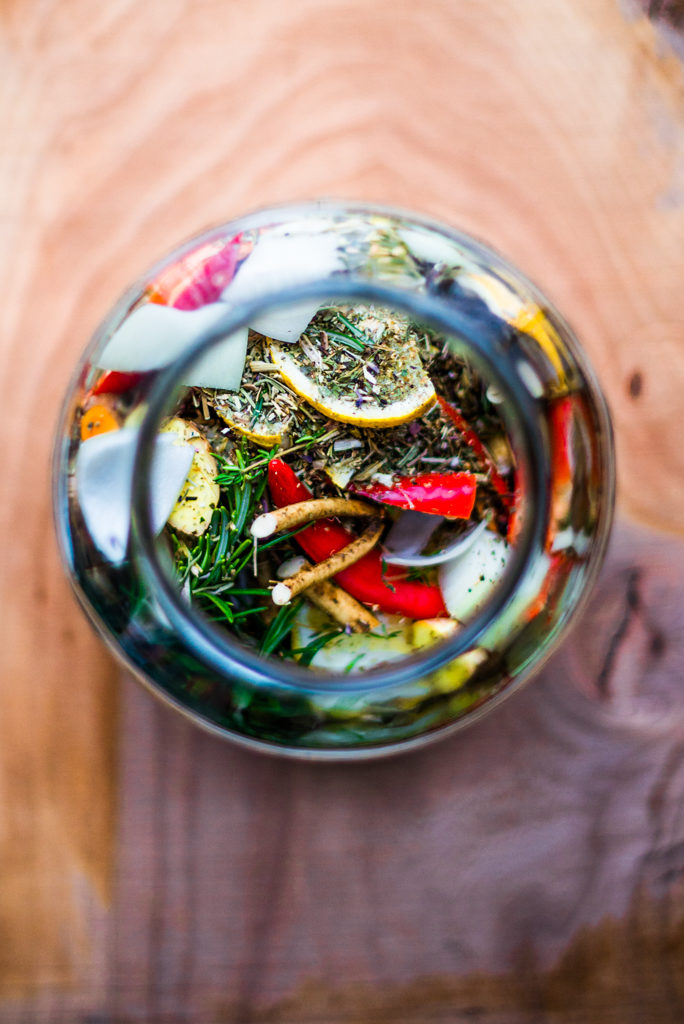 Deze Fire Cider maak ik nu al een paar jaar, ieder jaar. Het oorspronkelijke recept is van de beroemde kruidengeneeskundige Rosemary Gladstar. Elk jaar pas ik het weer een beetje aan en zo ontvouwt zich mijn persoonlijke optimale Fire Cider. Het mooie is, je kunt er allerlei kruiden en wortelen naar wens aan toevoegen en zelf bepalen hoe scherp je hem wilt. Het is een heerlijk pittige cider, die – let op – eerst een maand of wat moet staan voordat je hem kunt gebruiken. En, het is een prachtig middel voor deze tijd, om je lichaam te helpen reinigen en je immuunsysteem een boost te geven. Want reinigen is…versterken.
Het advies van Rosemary: neem 1-2 eetlepels Fire Cider wanneer je een koutje voelt opkomen en herhaal dit elk uur met een maximum van vijf keer. Je kunt hem ook dagelijks nemen tijdens het griepseizoen, dus nu is de perfecte tijd. Neem elke ochtend een halve tot één eetlepel of mix hem met wat gekookt water of sinaasappelsap. Let op, het kan aardig scherp zijn in je keel.
Met Rosemary's persoonlijke zegen deelde ik mijn versie van Fire Cider in mijn boek The Plant Pharmacy, maar omdat ik best wat vragen heb ontvangen over deze cider in deze tijd, wilde ik hem graag delen met iedereen!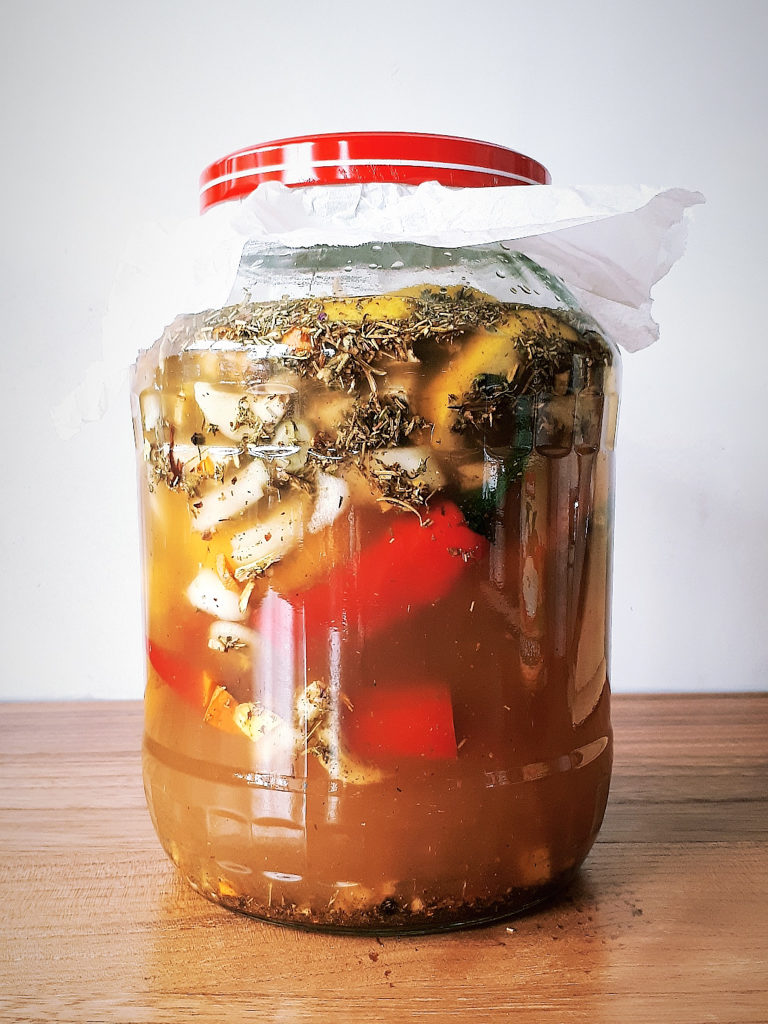 Voor ongeveer 1,5 liter
2 uien, gepeld en grof gehakt
10 teentjes knoflook, gepeld en grof gehakt
75 g mierikswortel, goed gewassen en grof gehakt
40 g verse gemberwortel, goed gewassen en grof gehakt
40 g verse kurkumawortel, goed gewassen en grof gehakt
2 el stukjes gedroogde Echinacea-wortel (optioneel)
2 chilipepers, doormidden gesneden
1 kleine sinaasappel, in plakjes gesneden
1 kleine citroen, in plakjes gesneden
2 el rozemarijn, fijngehakt
2 el tijm, fijngehakt
2 el hysop, gedroogd en fijngehakt (optioneel)
1 kaneelstokje
1 tl zwarte peperkorrels
1,2-1,5 l appelazijn
100 ml rijststroop
Doe alle ingrediënten behalve de appelazijn en rijststroop in een glazen pot. Giet er zo veel appelazijn bij dat alles onderstaat. Ik kom meestal uit op 1,5 liter bij deze hoeveelheden. Dek de pot vervolgens af met wat bakpapier als het deksel van de pot van metaal is (de cider mag het metaal niet raken). Draai het deksel over het bakpapier op de pot en schud goed. Zet de pot een maand weg in een donkere, koele ruimte. Schud hem elke dag. Na een maand kun je de cider afgieten door een kaasdoek of fijne zeef. Vang hem op in een grote kom en knijp de kaasdoek goed uit (wat in de kaasdoek of zeef achterblijft, kan bij het gft). Voeg vervolgens de rijststroop toe en roer goed met een houten lepel. Proef even. Je kunt altijd nog wat extra rijststroop toevoegen als je de cider iets zoeter wilt.
Spoel met pas gekookt water een glazen fles of meerdere kleine flessen met dop om. Giet de cider in een litermaat en vanuit die litermaat in de fles of flessen. Sluit de fles af en zet hem koel en donker weg.
Voor meer informatie, inspiratie en recepten zie mijn boek The Plant Pharmacy.
---
FIRE CIDER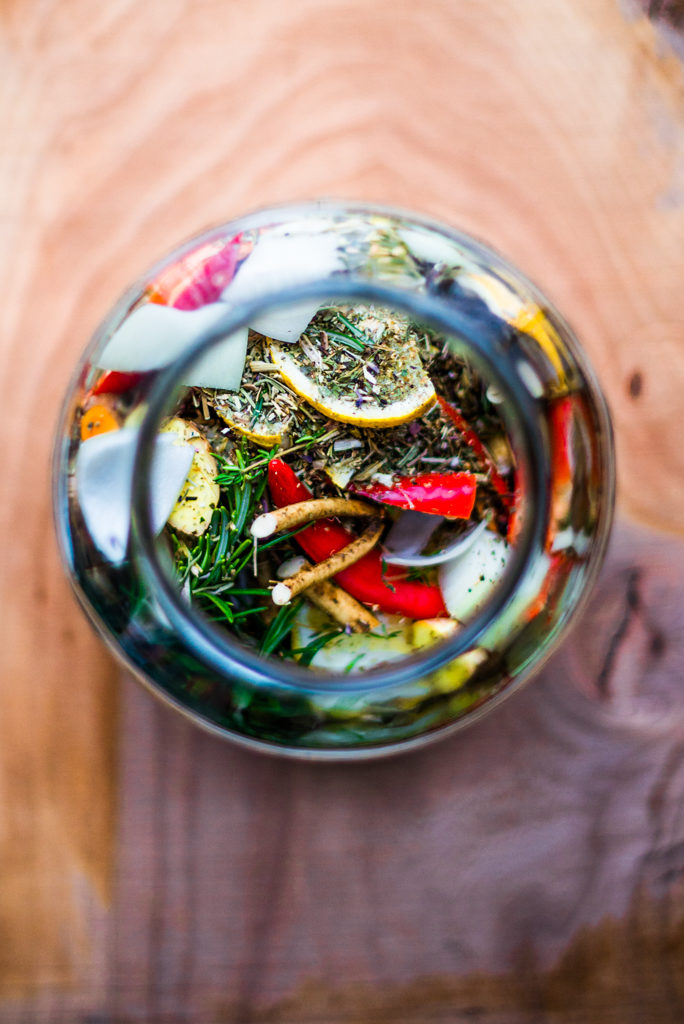 I have been making this Fire Cider for a few years now. The original recipe is from renowned herbalist Rosemary Gladstar. Every year I adjust it a bit and this is how my personal optimal Fire Cider unfolds. The great thing is, you can add all kinds of spices to your liking and decide how sharp you want it. It is a deliciously spicy cider, which – please note – must first stand for a month or so before you can use it. And, it is a wonderful recipe for these times, to help cleanse your body and boost your immune system. Because cleansing is … strengthening.
Rosemary's advice: take 1-2 tablespoons of Fire Cider when you feel a cold coming on and repeat every hour up to five times. You can also take it daily during the flu season, so now! Take half to one tablespoon every morning or mix it with some boiled water or orange juice. Note, it can be quite sharp in your throat.
With Rosemary's personal blessing I shared my version of Fire Cider in my book The Plant Pharmacy, but because I received many questions about this cider in regards to these curious times I would love to share it here with everyone.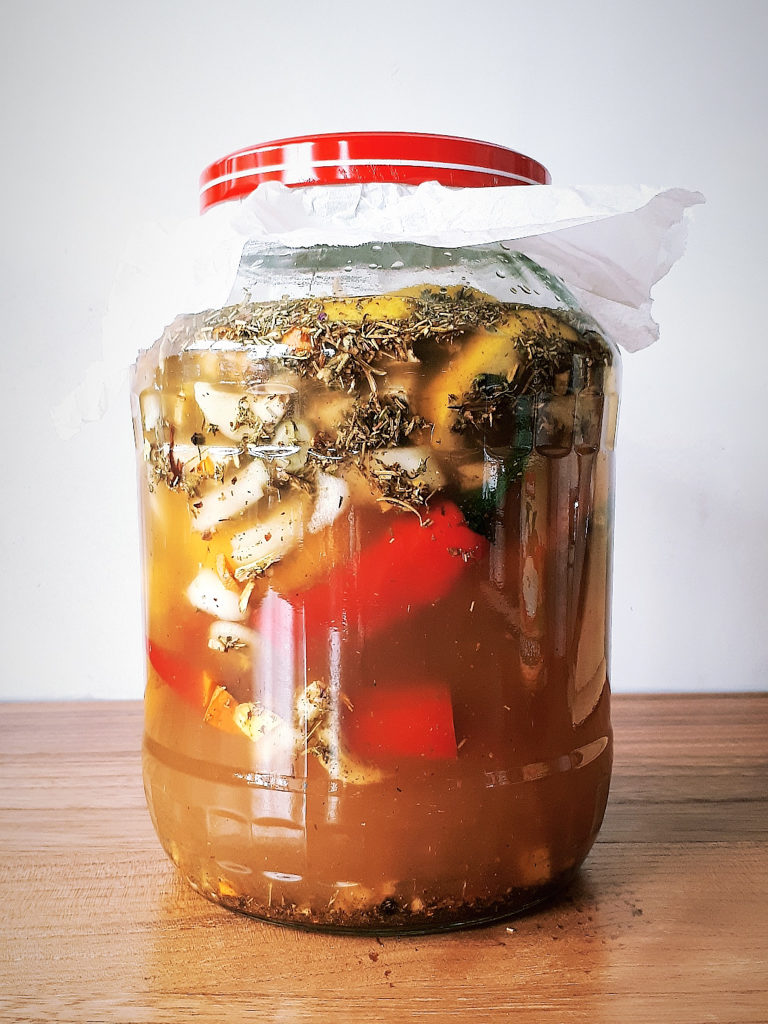 For about 1.5 liters
2 onions, peeled and roughly chopped
10 cloves of garlic, peeled and roughly chopped
75 g horseradish, well washed and roughly chopped
40 g fresh ginger root, well washed and roughly chopped
40 g fresh turmeric root, well washed and roughly chopped
2 tbsp pieces of dried Echinacea root (optional)
2 chillies, cut in half
1 small orange, cut into slices
1 small lemon, cut into slices
2 tbsp rosemary, finely chopped
2 tbsp thyme, finely chopped
2 tbsp hyssop, dried and chopped (optional)
1 cinnamon stick
1 tsp black peppercorns
1.2-1.5 l apple cider vinegar
100 ml rice syrup
Put all ingredients except the apple cider vinegar and rice syrup in a clean glass jar. Pour in so much apple cider vinegar that everything is covered. I usually end up with 1.5 liters with these quantities. Then cover the jar with some parchment paper if the jar lid is metal (the cider should not touch the metal). Turn the lid on and over the baking paper and shake well. Place the jar in a dark, cool area for a month. Shake it every day. After a month, you can drain the cider through a cheesecloth or fine sieve. Collect it in a large bowl and squeeze the cheesecloth well. Then add the rice syrup and stir well with a wooden spoon. Have a taste. You can always add some extra rice syrup if you want the cider a little sweeter.
Rinse a glass bottle or several small bottles with caps with freshly boiled water. Pour cider into the bottle or bottles. Close the bottle and store it cool and dark.
For more information, inspiration and recipes see my book The Plant Pharmacy.