IN DE HAPPINEZ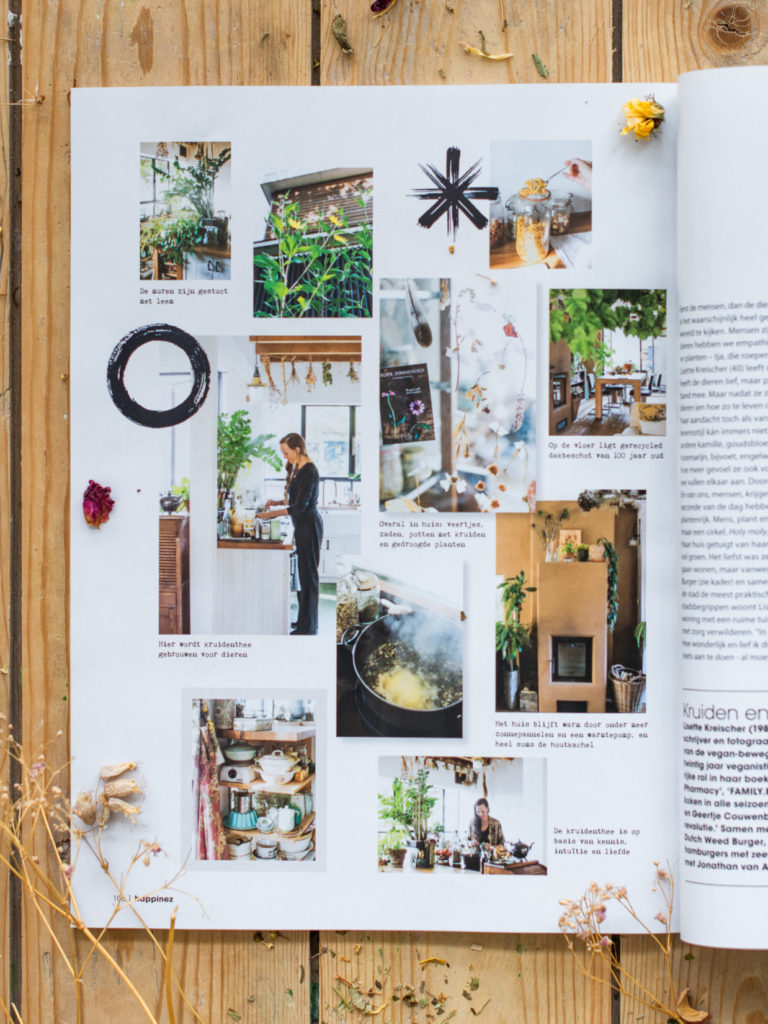 Ze luisterde aandachtig en schreef wat dingen op papier. Ik herinnerde me het warme gevoel dat ik had toen ik mijn dromen en verlangens met haar deelde. We hadden zo'n heerlijk, lang gesprek onder het genot van kruidenthee.
Ik herinner me ook dat ik dacht: heb ik chronologisch genoeg verteld en in een taal die anderen zullen begrijpen, is dit iets waar ze mee kan werken?
Een paar weken later stuurde ze me het artikel. Terwijl ik het las, kwamen er tranen op. Ze was erin geslaagd om alles te vertellen. Mijn reis met Jonathan van ons stadsleven naar ons nieuwe huisje in de natuur, het worden van verzorgers van een stukje groen, het vormen van vriendschappen met leden van het planten- en dierenrijk, kruidenthee en mijn geliefde werk voor De Peerdegaerdt. Het was er allemaal, zo heerlijk leesbaar en inclusief een aantal magische en prachtige beelden van het huis dat we binnenkort gaan verlaten. Ons lieve duurzame huis in Amsterdam waar we met zoveel dankbaarheid hebben gewoond. Het is onze groene veilige haven geweest terwijl we droomden van een leven in de natuur. Het is de plek geweest waar meneer Pooh de regenboogbrug passeerde. Waar ik vriendschappen sloot met planten. Waar Jonathan en ik ja hebben gezegd tegen een leven samen. Waar ik afscheid nam van The Dutch Weed Burger en van mijn bijzondere lerares Lili. Waar mijn hart duizend keer brak om te leren dat het eigenlijk aan het groeien was. Wat houd ik van deze plek en wat verlang ik naar het nieuwe hoofdstuk dat ons te wachten staat.
Terwijl dit interview verschijnt in de Happinez zijn Jonathan en ik onze (hopelijk) forever home in Drenthe wat aan het opfrissen. Een symbolische samenloop van dingen.
Albertine van den Brink, Dorien Vrieling, Eveline Helmink, Mirjam Bleeker en Frank Visser wat heb ik hier graag met jullie aan gewerkt en zoveel dank dat jullie mijn verhaal zo prachtig en mooi in woord en beeld hebben gebracht!
Het gehele artikel lezen? Die staat in de Happinez van april 2022.
En vind hier wat Plant Pharmacy goodness: mijn geliefde paardenbloemelixer en brandnetelsoep!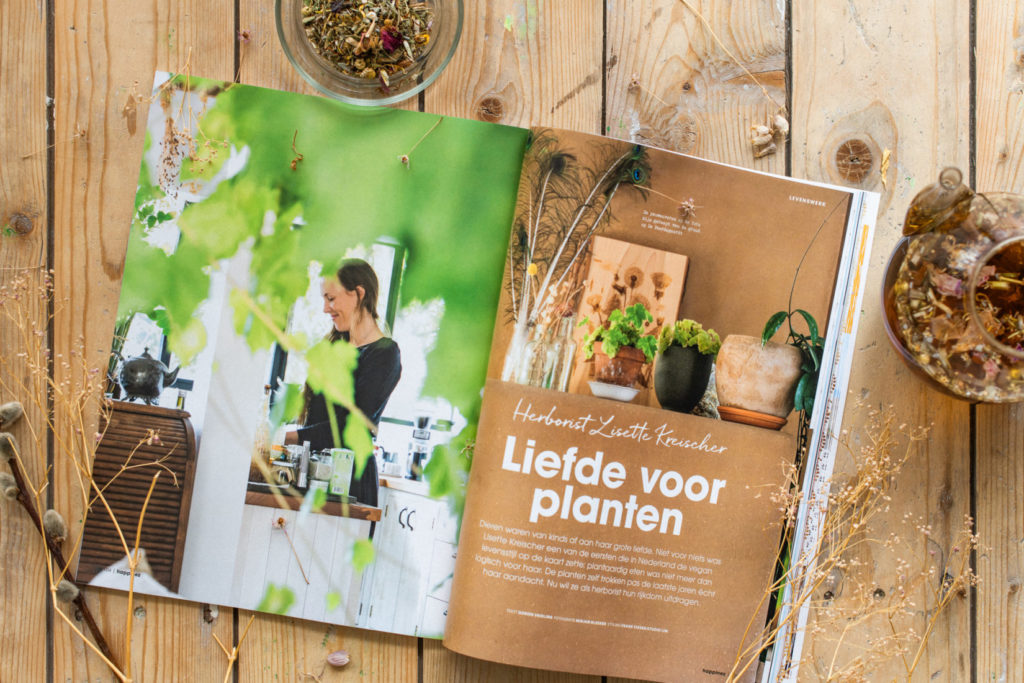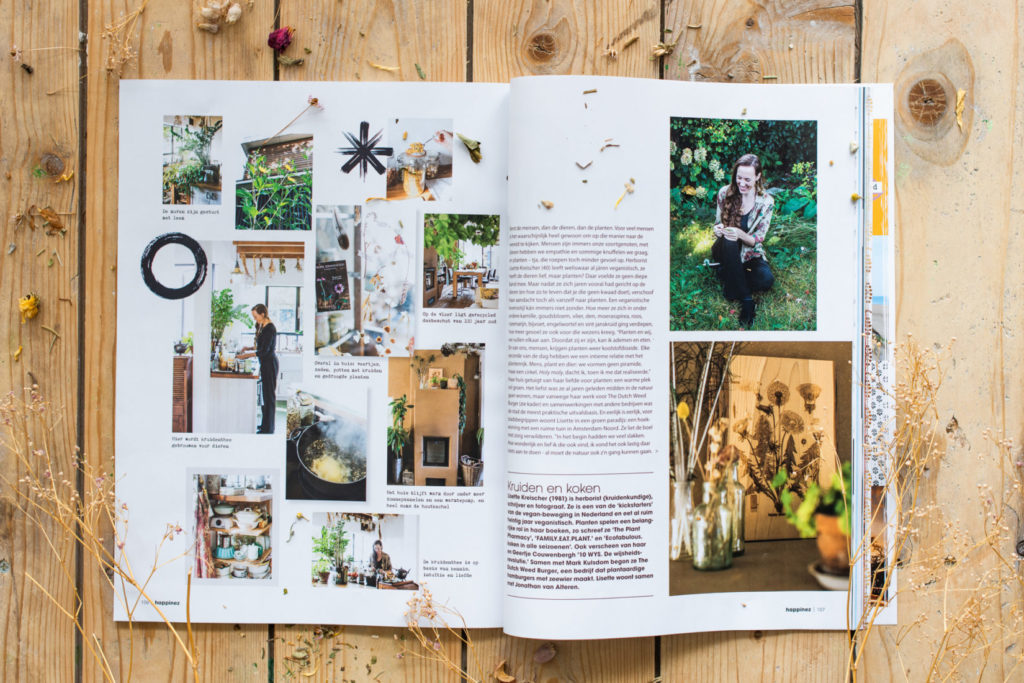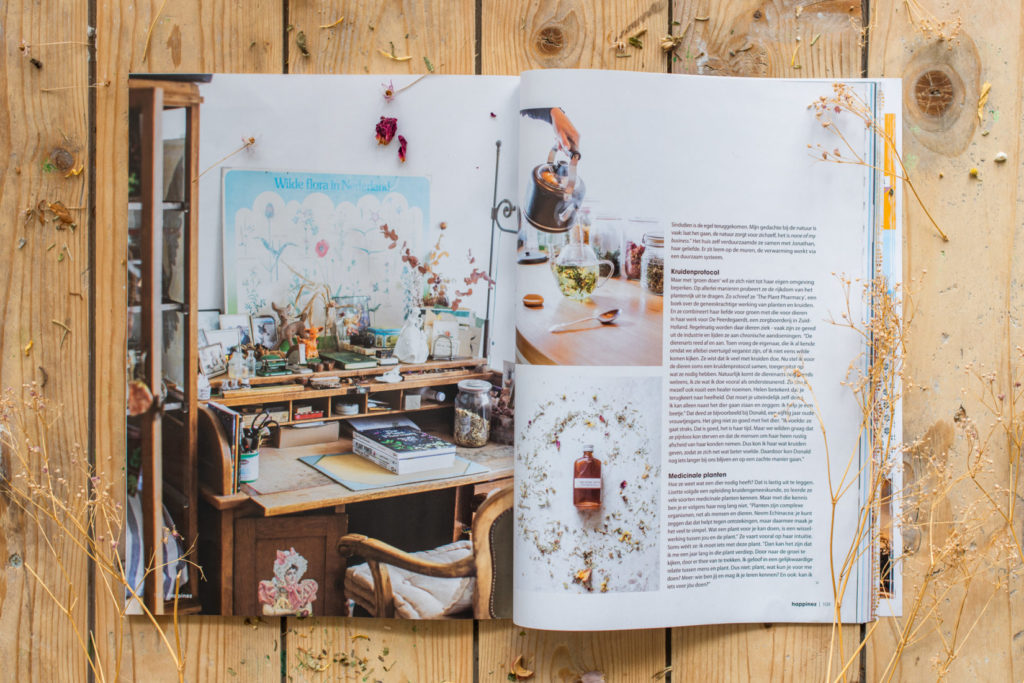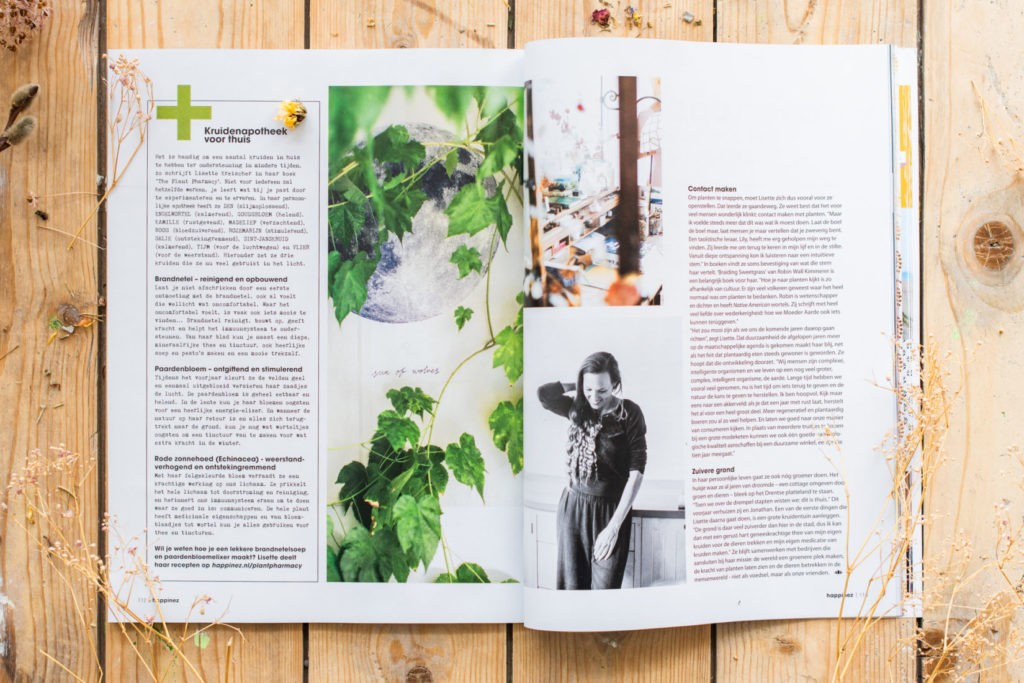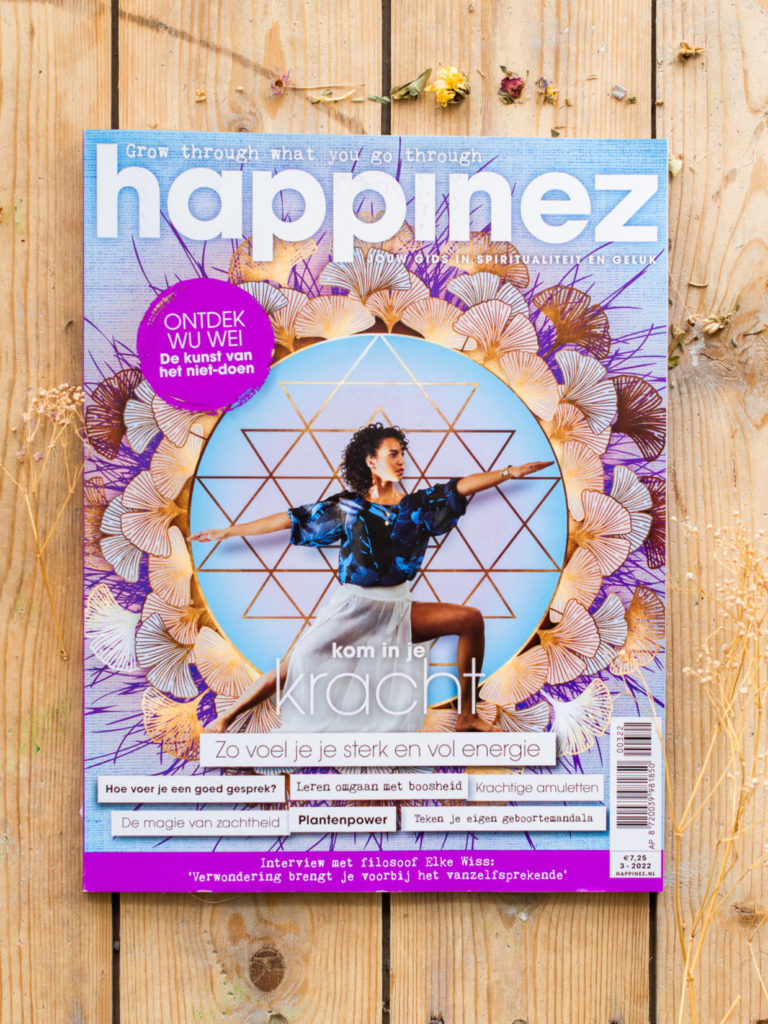 ---
IN THE HAPPINEZ
She listened carefully and wrote some things on paper. I remembered the warm feeling I had sharing my dreams and longings with her. We had such a lovely, long conversation while sipping on herbal tea. I also remember thinking does this make sense, did I share about my work chronologically enough and in a language that others will understand, is this something she can work with?
A few weeks later she send me the article. While I read it tears welled up. She had managed to put it all in there. My journey with Jonathan from our city life to our new cottage in nature, becoming caretakers of a piece of green, forming friendships with members of the plant and animal queendom, herbal teas, and my dear work for De Peerdegaerdt. It was all there, in such a lovely read and including some magical and beautiful images of the home we will be leaving soon. Our dear sustainable home in Amsterdam where we have lived with so much gratitude. It has been our green safe haven while dreaming of a life in nature. It has been the place where Mr. Pooh crossed the rainbow bridge. Where I made friends with plants. Where Jonathan and I said yes to a life together. Where I said goodbye to The Dutch Weed Burger and to my extraordinary teacher Lili. Where my heart broke a thousand times only to learn it was actually expanding. How I love this place and how I long for the new chapter that awaits us.
While this interview appears in Happinez Jonathan and I are freshening up our hopefully forever home. A symbolic confluence of things.
Albertine van den Brink, Dorien Vrieling, Eveline Helmink, Mirjam Bleeker and Frank Visser how I loved working with you on this and thank you so much for putting my story so eloquently and beautifully into words and images!
Find here some plant pharmacy goodness; recipes for my favourite dandelion elixer and nettle soup.